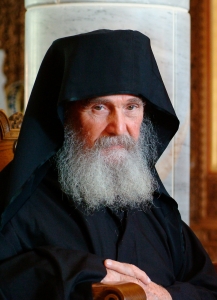 Archimandrite Ephraim, a disciple of Elder Joseph the Hesychast and former abbot of Philotheou Monastery of Mt. Athos, restored and repopulated four Mt. Athos monasteries.
In addition, he is the founder and spiritual guide of 17 monasteries in the United States. He has served as a priest-monk for almost 60 years and as an elder for over 50 years.
Elder Ephraim currently resides in Arizona at St. Anthony's Greek Orthodox Monastery.
Filter by
| | Title | Category | Address | Description |
| --- | --- | --- | --- | --- |
| | Holy Monastery of St. John the Forerunner | Womens | 5 Timmer Lane Goldendale, WA 98620 USA | |
| | Holy Monastery of the Theotokos, the Life-Giving Spring | Womens | P.O. Box 549 Dunlap, CA 93621 USA | |
| | Holy Monastery of St. Anthony | Mens | 4784 N. St. Joseph's Way Florence, AZ 85132 | |
| | Holy Monastery of Holy Archangels Monastery | Mens | 2191 Twin Sisters Drive Spring Branch, TX 78070 USA | |
| | Holy Monastery of St. Paraskevi | Womens | 6855 Little York Lane Washington, TX 77880 USA | |
| | Holy Monastery of Panagia Vlahernon | Mens | 12600 West Hwy. 318 Williston, FL 32696 | |
| | Holy Monastery of Holy Annunciation Monastery | Womens | 13486 N.W. Hwy. 225 Reddick, FL 32686 USA | |
| | Holy Monastery of Panagia Prousiotissa | Womens | 404 Warner Road Troy, NC 27371 USA | |
| | Holy Monastery of Panagia Pammakaristou | Mens | 1631 Creasey Rd. Lawsonville, NC 27032 USA | |
| | Holy Monastery of Holy Transfiguration Monastery | Mens | 17906 Rt. 173 Harvard, IL 60033 USA | |
| | Holy Monastery of St. John Chrysostomos | Womens | 4600 93rd Street Pleasant Prairie, WI 53158 USA | |
| | Holy Monastery of Holy Trinity Monastery | Womens | 125 Sturdevant Rd. Smith Creek, MI 48061 USA | |
| | Holy Monastery of the Nativity of the Theotokos | Womens | 121 St. Elias Lane, Saxonburg, PA 16056 USA | |
| | Holy Monastery of Holy Protection Monastery | Womens | 1 St. Joseph's Way White Haven, PA 18661 USA | |
| | Holy Monastery of St. Nektarios | Mens | 100 Lake Anawanda Rd. Roscoe, NY 12776 USA | |
| | Holy Monastery of St. Kosmas | Womens | 14155 Caledon King Town Line Rd. South Bolton, Ont. L7E 5R7 CANADA | |
| | Holy Monastery of Panagia Parigoritissa | Womens | 827 Chemin de la Carriere Brownsburg (Chatham) Quebec, J8G 1K7 CANADA | |
↳