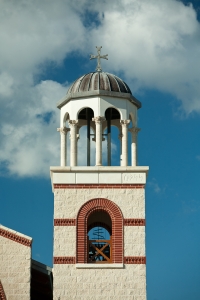 Holy Archangels Greek Orthodox Monastery is a cenobitic men's monastery under the Metropolis of Denver. With the blessings of His Eminence Metropolitan Isaiah, the monastery was founded by Elder Ephraim in 1996. The monastery resides in Kendalia, north of San Antonio and west of Austin, located in the heart of Texas.
The monks follow the Athonite Typikon, or rule, which directs each of the Fathers to keep both a private prayer and reading rule in the early morning hours as well as attend the services of Hours, Orthros, Divine Liturgy, Vespers and Compline daily. Additionally, the monks provide hospitality to pilgrims and visitors and faithfully perform their chores and responsibilities for the brotherhood.
At present, the Fathers are devoting much of their time to the building of the monastery kellia [dormitories]. When completed, the fathers will move from the Skete area, where they reside, to the new quarters.
The Texas Hill Country is a desert of its own. Rugged and wind-swept, vast and yet strangely familiar, the arid Hill Country is a good home for an Orthodox monastery. Central to the major metropolitan hubs of Austin and San Antonio and only a few hours' drive from both Dallas and Houston, the monastery is blessed to be able to provide hospitality to pilgrims and inquirers and a place of spiritual refuge for Orthodox men wanting to serve Christ in the arena of Orthodox monasticism.
The brotherhood, though small, has fathers from many walks of life and from different countries, many of whom left successful careers in the world to toil in the desert for the love of Christ, praying for the world and seeking the salvation of their souls.
On behalf of the Holy Archangels, we invite you to visit the monastery and pray that you will find here a place of joy and repentance.